Course details
Imari top beef course ★ 2h with all you can drink 7,500 yen ※ Exquisite beef tongue, thick cut special sirloin ... etc etc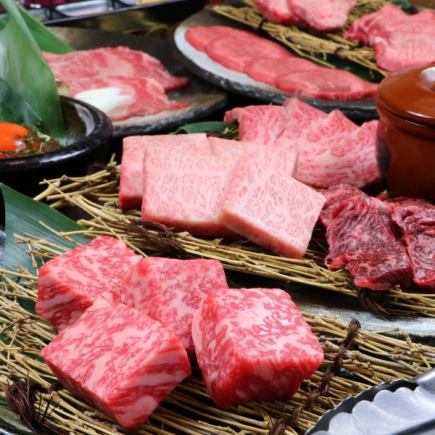 All-you-can-drink available

Approximately 80 varieties of items! Bring a coupon usually 90 minutes all-you-can-drink → 2 hours 1500 yen !!
Reservation deadline

Until 0 o'clock on the day of visiting desired date
Available days for reservation

Monday - Sunday - Public holidays - Holidays
The best course using luxuriously good part of Imari cattle appears! When you want to taste delicious meat little by little ♪
Course menu
■ Kimuchi
■ Cherry Yukke
■ Exquisite Beef Tongue Tsukushi (Three Types)
· Thick cut special tan steak (salt kelp fake)
· Thinly sliced ​​goat roasted onion
· Imari top cow tongue
■ Imari Beef Sukiyaki Wind-Up Loose
· Salt · Ponzu · Discharged
※ With your favorite condiments.
■ Imari Cow Thick Steak Steak Cut Special Sirloin
■ Various picks of Imari cattle
· Imari cow special selection loin
· Special Impression of Imari Cattle
· Imari cattle special selection Harami
· Ripe marinated in Calvi
■ Wakame soup
Rice
* Imari cow may be changed to Miyazaki beef or Kagoshima cattle (rank is the same)
※ Please note that cancellation on the day of the course will result in cancellation fee
All-you-can-drink menu
· Draft beer / Highball
· Barley / horn high ball / horn cassis high ball / horn hicolor / angular high yuzu / angular ginger / horny grapefruit
· Cocktail / makgeoli
· Screw driver / Moscommeureur / cassis orange / cassis grapefruit / cassis soda / cassis oolong / bulldog / fuzzy navel / peach soda
· Shochu / Japanese sake
· Black Kirishima (potato) / Noodles (potato) / Niseido (wheat) / Shiratake (rice) / Ren (Brown sugar) / Forgotan (shiso) / Remnant white (Awamori) / Kamikaze white crane
· Sour / Wine
· Lemon / lime / oolong / calpis / green apple / carrorosi (red · white · rosé)
· Makgeolis / fruit wine
· Makgeolli / Cassis Makgeolli / Yuzu Makgeolli / Gurefurumakkori / Kinsu Made Nanpaku plum wine / Yamanashi giant sake / Treeing apricot sake / Aomori made apple sauce / Tokushima yuzu
·Soft drink
· Calpis / Calpis Soda / Oolong Tea / Coca Cola / Grapefruit / Orange Juice / Ginger Ale
· 【All-you-can-drink premium】
· All you can drink premium
·draft beer
· Premium Malts
·Non-alcoholic cocktails
· Cassis Orange / Cassis Soda / Cassis Grapefruit / Shirley Temple
·Highball
· Premium High Bowls also available
2018/11/01 update